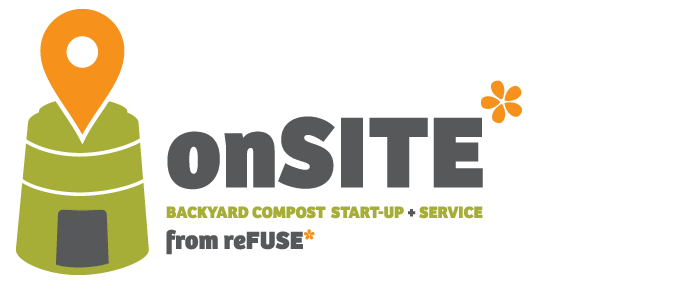 Sustainability begins at home. And we can help with our new On-Site Composting Service. Now that food scraps and other organic waste are excluded from the landfill, homeowners have two options: 1. Separate organic waste for pick up by reFUSE, or your municipal crew for transport to a composting facility. 2. Or compost your organic waste yourself in your own backyard and create nutrient rich soil for your gardens and lawns. Of course, on-site composting calls for some equipment and know how. And at reFUSE Resouse Recovery, we've been providing both since 2002 and we now offer an on-site composting service to help you feed your garden and improve your waste diversion efforts at the same time. We'll come to your home to consult on your composting needs. We'll help you get started. Then on a regular schedule we'll assist you with your own backyard composting. We can help you with turning your compost pile or composter and maintain the correct ratio of greens to browns.
Frequently asked questions
What does your service include? An experienced compost person will turn your compost pile, add any necessary brown (carbon source) material, and recommend any necessary adjustments to your compost. You can also contact us to reboot your current compost pile before starting this service, set up a new composter, or move your digested material to another site in your yard for further curing.
What is the cost? $24 per scheduled visit. (additional fees may apply)
How often will I need my compost turned? That will depend on the type of composting system you are using and the amount of material you are putting in it. Generally to maintain a hot compost fed with kitchen scraps and other materials you will need to turn it twice a month.
Do you sell composters? Yes. We've searched and tested the market for a composter we can highly recommend – One with a dual-chambered, cog and wheel hand cranked tumbler that can be installed indoors or outdoors. It also has a leachate containment unit to catch valuable compost tea. You can compost all your kitchen scraps including meat, fish, and dairy. It is 100% rodent and pest free, made from recycled materials, and will create quality compost in about three months.
Do you sell wood pellets or other carbon sources? Yes. We're always finding alternate uses for recoverable materials. Our pellet-making machine upcycles used wood based materials into handy-sized wooden pellets, perfect to add to your compost as a carbon source. You can buy them from us by the bag.
Will I get a discount on my municipal Organics Collection service if I compost at home? If you live in Saanich, you may apply to opt out of the Organic Collection Service. The City of Victoria can provide a smaller garbage bin for a reduced fee. No other municipalities at this time offer an opt out option or a reduced garbage fee option.
Do you sell finished compost? Yes. We sell our own branded reSOIL. Made entirely of organic waste and yard and garden trimmings beneficially-recycled into a natural medium that directly supports pesticide-free gardening, water conservation and greenhouse gas reduction. No pesticides, fertilizers or additives.